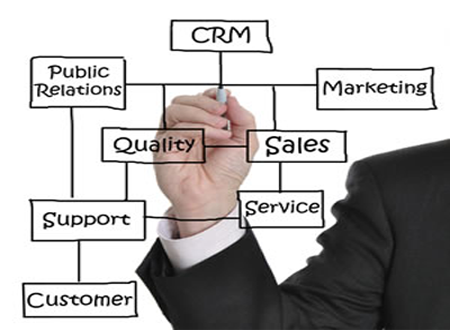 With the plethora of CRM products in the market today, most businesses find it hard to select the right CRM solution for their business. The overwhelming options available, each of them highlighting their bloated feature-set, confuse the decision makers and they struggle to choose the right solution.
Each business is different – every company has their own business processes and workflow they follow. A Customer Relationship Management (CRM) system is at the core of most SMEs and help them manage their marketing and sales efforts and also service their clients. Almost every CRM system available will have the basic features you need in small and medium enterprises. The key differentiator is how easily you can integrate the system to your business environment.
Some of the factors you should consider while selecting a CRM system are as follows:
Business Process Integration
This is the most important factor which evaluating a solution. You need to ensure that the system you choose can be integrated to your existing business processes in all departments of your company where the solution needs to be implemented. Though, it's highly unlikely that a solution will meet all your business needs out of the box, but after appropriate customization it should be able to implement your business workflow.
Cost
For most Small and Medium Businesses, cost is one of the major factor when selecting a solution. Look for a solution that fits your budget and pay special attention to the recurring costs you'll have to bear in terms of licensing, support, training, manpower and IT resources.
On-cloud vs. On-premise
Most CRM systems today have a cloud based offering which is a hosted web-based solution ideal for companies who don't want to spend a lot up-front for their IT infrastructure. The other option is to host the CRM application on-premise which gives you more control on every aspect of the system including security, availability, regulatory compliance etc.
Scalability & Accessibility
Your organization will grow – your CRM solution should be such that it could handle this growth. It should be scalable to accommodate growing number of users and departments in your company. Also, you should consider the accessibility of the system. Some organizations prefer ubiquitous availability of the system so that employees could work from anywhere. While others, would like to restrict access from workplace only, most likely due to regulatory compliance or other security issues.
Integration with other Systems
For most organizations, CRM won't be the only software you would be using. At some point, you would want the CRM to be integrated with other systems used in your organization. Choose a system which offers easy integration options with other third-party software.
Extensibility and Vendor Support
Most CRM systems come with a plethora of features out of the box. But organizations and processes evolve and the standard functionality of the system might not be able to solve all your problems. That's why it's imperative to choose a system which can be extended to add more functionality. It's also essential that the system has excellent vendor support who could help you build the features you need in the system.
Remember, technology is just one part of the CRM system. The other important half is the integrating the CRM with your business processes. It is crucial that you get the right consulting advice so that the system is implemented in a seamless manner with your workflow. The right consultant would be able to understand the procedures and challenges of your business and propose an optimal road-map for implementation, user training and support for the CRM system.
As a last bit of advice, be meticulous and take expert help for the system which would be the most essential software in your organization.